Learn Top Skills to Help You Future-Proof Your Career
September 1, 2022 (originally appeared on LinkedIn)
There's a new buzzword that's changing the way employers reward, promote, and hire. It's skills. Instead of 'who do you know?' or 'where did you go to school?', the question is, 'what can you do'? 
Skills, and keeping them sharp, are key to helping you stand out, stay competitive, and ultimately, future-proof your career.

We compared the top skills professionals had in 2015 to those they have for the same job today to see just how much things have changed. Use this data to identify and close any skill gaps in your skill set.  
First, we'll share the top skills LinkedIn members added to their profiles across all professionals, broken out into two sets of skills: soft skills, and hard skills. These are the skills that can help you land your next opportunity. These 20 skills were listed in 78% of jobs posted on LinkedIn in the last three months globally*. 
Next, we surface the top skills members added to their profiles in specific areas of expertise, so you can focus on learning the right skills to future-proof your career in your unique job function. 
**Watch LinkedIn Learning courses to learn any of these skills for free as a Duke student.**
*Methodology: Analysis of skills mentioned in paid job postings listed on LinkedIn between May 1 – July 31, 2022
Top Soft Skills to Future-Proof Your Career
Hard skills can help you get a recruiter's attention, but soft skills can help you land the job. Soft skills are in demand across industries. In fact, 45% of all LinkedIn Premium jobs posted within the past 3 months mention the importance of communication skills. From your colleagues' perspective, more than 3 in 5 (61%) of professionals say soft skills in the workplace are just as important as hard skills. 
Since the pandemic, these 'people skills', have become more powerful than ever. Linda Jingfang Cai, VP of talent development at Linkedin, calls soft skills, "the currency of the future workplace".
We looked at the top trending skills added to LinkedIn profiles across all professionals. These are the soft skills that showed up the most. Learn the top trending soft skills today to ensure you have the skillset for what's next. Dive into the list and courses to learn them for free until September 30, 2022.
Top Soft Skills to Future-Proof Your Career:
1. Leadership – Leadership Tips, Tactics, and Advice with Elizabeth Lotardo & Lisa Earle McLeod
2. Communication – Communication within High-Performing Teams with Daisy Lovelace
3. Problem Solving – The Secret to Better Decisions: Stop Hoarding Chips with Seth Godin 
4. Management – Be the Manager People Won't Leave with Laurie Ruettimann
5. Time Management – Time Management Fundamentals with Dave Crenshaw
6. Strategy – How to Make Strategic Thinking a Habit with Dorie Clark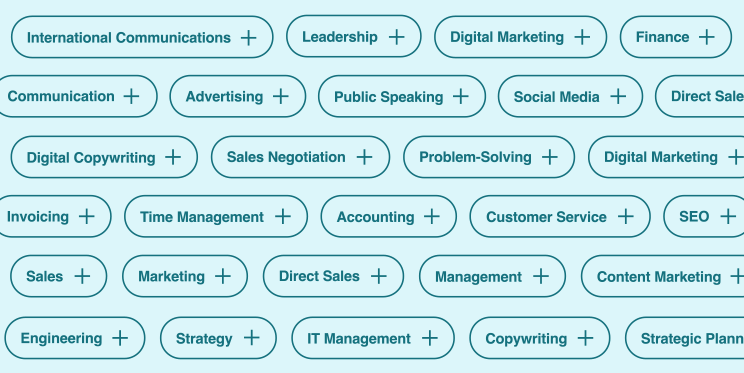 Top Hard Skills to Future-Proof Your Career
Hard skills are your job-specific skills. Employers often look to these skills to decide whether to call you in for an interview. They're the ones most affected by the ever-present whirlwind changes in technology. 
Fast Company reports that the share of highly skilled jobs has increased by 25% in the last 20 years and more than a billion jobs worldwide will be transformed in the next decade. Change is inevitable and new hard skills will continue to emerge as the workforce evolves.
These top hard skills are the ones that showed up the most on LinkedIn profiles. Dig into top skills lists for your unique job function in the next section.

Top Skills to Future-Proof Your Career in Your Area of Expertise
These are the skills that make you an expert in what you do. They separate you from colleagues in other departments or roles and they are transferable to any company in your field. 
The top skills for your unique job function can help you identify and close skill gaps, grow your career, or plot your path toward a role change. These skills can help you future-proof your career as a marketer, financial analyst or accountant, project manager, business professional, IT professional, engineer, or sales professional. 
The top 10 skills for marketing professionals changed by 50% since 2015.
With the rise of hybrid work, almost every aspect of marketing requires a background in digital marketing. It's no surprise then that today, Digital Marketing is the #1 skill marketers list on their LinkedIn profiles. Today, attention spans are shorter and there are more content types and content creators than ever. These macro trends correlate with skills like SEO, Content Marketing, and Google Analytics rising in the ranks of must-have skills for marketers today. 
Check out the ways marketing skills have shifted and then learn the skills to future-proof your career.