Information for On-Campus Recruitment Events and Interviews
Most on-campus events and interviews will be in the Brodhead Center, the JB Duke Hotel, or the Washington Duke Hotel. Below is some information to help you navigate your upcoming campus event.
The Brodhead Center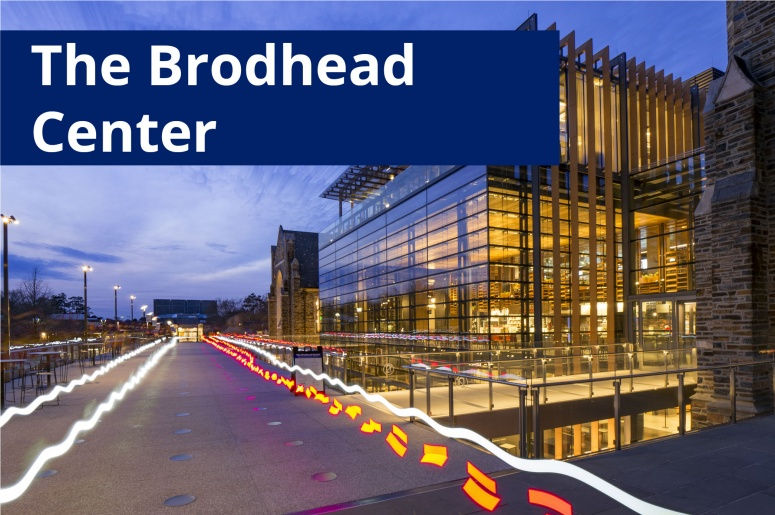 Brodhead Center
416 Chapel Drive Durham, NC 27708
Contact: (919) 660-1765 or eventservices@duke.edu
The original historic West Union on Duke's west campus renamed The Brodhead Center, is the hub of campus dining with 13 individual restaurants and flexible gathering spaces as well as meeting rooms. There are 5 conference rooms, 2 theater-style rooms, 1 classroom, and 1 living room that are available for reservation.
Parking
For the Brodhead Center, you will want to park either at Parking Garage 4 or the Bryan Center Lot, both accessed from Science Drive. Enter 120 Science Drive, Durham NC 27710 on your GPS.
Catering
You may find the list of approved caterers for the Brodhead here.
Technology
The Brodhead Meeting rooms are equipped with projectors, screens, podiums, and a podium microphone. The projector is connected via HDMI but has adaptors for Mac & VGA. There will be an Events Services staff member on hand to assist with any AV set-up.
Shipping
You can ship boxes directly to the Brodhead Center. The Operations Team can assist with holding the packages until your event. Please use the following address:
Duke Brodhead Center
C/O Operations Desk – First Floor
416 Chapel Drive
Durham, NC 27708
The JB Duke Hotel
JB Duke Hotel
230 Science Drive, Durham NC 27708
Contact: (919) 660-6400
Our state-of-the-art meeting and conference facilities featuring the 25,000 square foot Thomas Executive Conference Center makes the JB Duke Hotel an attractive venue for hosting corporate and academic events and meetings. The conference center is comprised of a 5,450 square foot ballroom, several multi-purpose and breakout spaces for collaborative work sharing, two boardrooms, two tiered classrooms seating 65, as well as pre-function spaces and a business center.
Parking
A parking garage is conveniently located adjacent to the hotel and is complimentary for all JB Duke guests. The hotel provides one time validation as well as multi-use passes.
Catering
The JB Duke offers its own catering team. Find out more here.
Shipping
Packages may be shipped to the hotel address above. Please put the recruiter's name and date of interviews on the package.
The Washington Duke Inn
Washington Duke Inn
3001 Cameron Boulevard, Durham, NC 27705
Contact: (919) 490-0999
Parking
The Washington Duke Inn offers both complimentary and valet parking on site.
Catering
The Washington Duke Inn has its own catering team. Find out more here.
Shipping
Packages may be shipped to the Inn at the address above. Please include your name and the date of your function on the mailing label.
Visiting Duke and Durham
While you are in the area, we hope that you will explore some of our local offerings and attractions. Please visit this web site to learn more visiting Durham, Duke's campus, and accommodations.
COVID Policies
Duke United (information for when on-campus): We are looking forward to you recruiting on-campus with us. Campus guidelines follow state and local regulations and are subject to change. Visitors should check Duke United before coming to campus and follow direction provided by campus personnel while visiting.  
Duke Career Center Recruitment Policies  
Recruiting Policies: By participating in our student engagement event, interviews and/or career fair events virtual or on-campus you are agreeing to abide by our 2022-23 Recruiting Guidelines & Expectations.  
Other Recruitment Opportunities
Recruiting Events & Fairs: Please visit our Duke Career Hub website for more information about our recruiting events.